---
"U" boys

August 15, 2008 - Ever since Chester and Dylan passed away shortly after one another, Pancho & Lefty have had the cage all for themselves. But that's almost certainly going to change soon, because during the night a nest of twelve "rittens" was born at Rattery Ratcity, my favourite breeder. When they're old enough, two out of a total of six boys from this nest are coming to live with me and Pancho & Lefty. That is, if all goes well. But thusfar everything is going just fine, as the rittens and their mama are doing great, so I have high hopes.
The mama by the way is Sharpay of Ratcity, a black Berkshire dumbo lady who lives at Rattery Ratcity. The daddy is Maxx of Ratcity, an agouti Berkshire dumbo who lives with a friend of mine, and who used to be a cage mate to Pancho & Lefty's brother Zorro (who sadly died not too long ago). So I'm sorta keeping things in the family*, again.
Because this nest is the 21st (= "U") nest of Ratcity, it's custom to start the names of the rittens with the letter U. So the new boys are going to be called Ulixes & Uisce Beatha. Ulixes comes from Ulysses, the famous book by James Joyce. Uisce beatha is Irish for whiskey (well, actually it's the other way around).
I can't wait for the new boys to move on over. But I will have to wait, at least until they're 6 weeks old and strong enough to face my other two boys.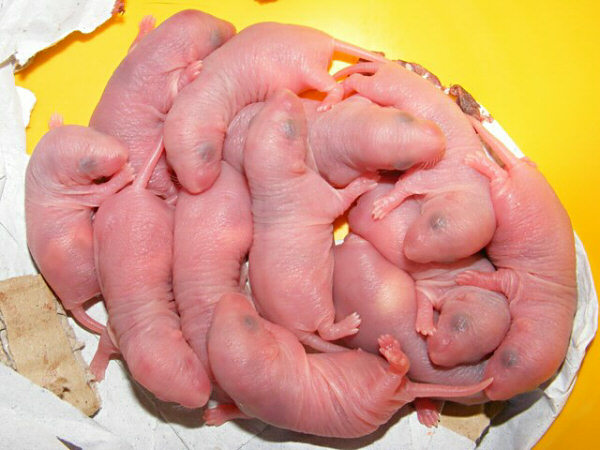 August 15: Twelve newborn "rittens"
* I'm keeping things even more in the family than I originally wrote. Because the Ulixes & Uisce are from the same breeder as Chester & Casey and Dylan, they are all directly related. The great-grandmother of the "U" boys was Danika, a sister of Dylan.